Gibson Flying V Bass
(February 1982)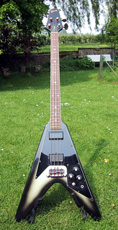 One of the rare Gibson V Bass.
Gibson Flying V Bass
Date of production: Feb. 25th,1982
Serial-No.: 80562149
There are bodystyles which have made history like the Gibson Flying V. Gibson started the production of the Flying V in 1958 and it is continued. Only the Flying V bass was built for a very short time (late 1981-1982!).This rare bass was built in Kalamazoo / USA.
He has a mahogany body and a maple neck guled into the body´s neck pocket.
Gibson told me that this bass was never produced for lefthanded basists! So I had to buy this one.
Gibson only produced 300 - 400 Flying V basses!!!!