.
January 2007
Hello fellow lefty bassplayers.
let us start this new year with full of optimism! At beginning of the new year I got many emails from you and I´m sure, this year will be one of the best! Maybe it´s the beginning of a new era. For myself, the last year ends turbulent and the new year began as well.
And now I have to present you a sensation! At first time in history (let me know if I´m wrong) a lefthanded bass is ready for a raffle, exclusive for the users of this website, www.leftybass.com!

At every time only righthanded bassplayers had a chance to win a bassguitar. But now this terrible time is over, because the wellknown company "Clover Bass Guitars" (owner Jörg Neugebauer) has a big heart for lefthanded bassplayers and treat a expensive, handmade Clover Aperiron H.5 Edition lefthand bass!!!!
This high end bass has a value of 1769,-- Euros!

Check out the Clover website: www.cloverbasses.com
For details to this raffle click here! Good luck!

Please use my guestbook and let me know what you think about this great support from Clover!
Now it´time to say hello to lefthanded basists, who have send me theire informations! Please welcome to:
Ethan Newman / USA
Carl Scarborough / Australia
Ash Milligan / Scotland
Michael Bernicker / Germany
Mehmet Tahsin Tansu / Turkey
Rick Lopez / USA
I also got new informations from
Andrei Gorodetsky / Russia
Roger Romain / Belgium
Vladimir Scherbinin / Ukraine
Thank you very much!
I´m in touch with the German luthier Adrian Kuban-Maruszczyk for a long time. Adrian creats exellent basses and supports lefty bassplayers like Clover with all wishes we have for a lefty bass.
Adrian likes to present you his new masterpiece, a Cazpar bass, in a shortscale version, which is made by coustom order.

You will get this Cazpar lefthand for about 899,-- Euro. For details take a look to www.public-peace.de
.
And than I got some emails, I don´t to keep them by myself.
1. Peter McCulloch / USA
I'm writing to tell you that Eastwood Guitars is currently making an Ampeg AEB copy for 2007, and they are willing to make lefties if we can get a minimum of 12 orders.

http://www.myrareguitars.com/nammmodels2007.html

Eastwood Guitars are very cool about offering left handed guitars, and I was pivotal in getting the lefty Mosrite Ventures bass made. If you are not familiar with these Ampeg basses, they are the coolest looking basses ever made, IMO. Rick Danko can be seen playing one in, "The Last Waltz". There is only one known lefty Ampeg AEB in existence, and it was specially made for the bassist of the Four Seasons back in the 60's. I believe Route 66 Guitars owns this bass.


Fotomontage
I'm asking if you could spread the word on your site and mention that Eastwood will make us a lefty Ampeg copy with only 12 orders minimum. I want to get the word out to as many people in the lefty community as possible.
If you are intrested in one of this unique bass, please get in touch with Mike Robinson from Eastwood Guitars. Here is his email address: michael@myrareguitars.com
.
I also have some other good news:
There's a company called Waterstone Guitars that is currently making basses for Tom Peterson of Cheap Trick and they are now offering a left handed Tom Peterson signature 12 string bass model! Check it out at: www.waterstoneguitars.com/bass_tp12_34.shtml. It's a very cool looking bass, and it's probably the cheapest and easiest lefty 12 string you can find.

Thanks and all the best.

Keep on thumpin',
Peter
2. Chris Badynee / USA

Hi Arni,
this may be the worlds first ambidextrious upright bass.
The Bogdon Box Bass is a 2-string upright bass that is shipped as a kit. The oak neck assembly is pre-cut and pre-drilled. The only tools needed are a screwdriver, a hot glue gun, packing tape, and a razor blade for cutting along-the-dotted-lines on the cardboard box. The box bass looks absurd yet sounds wondeful.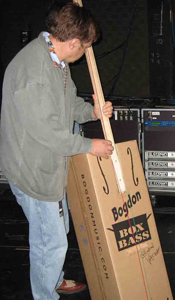 here's a bass solo video http://www.youtube.com/watch?v=c6cTbaBApM4

and here's the box bass webpage http://www.bogdonmusic.com
So if you are looking for a cheep upright, take a look to this crasy bass!!
Rick is looking for help! He´s the owner of a lefthanded Guild acoustic bass and needs some information to this bass!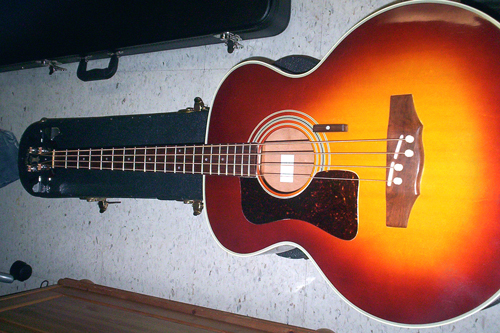 Serial number: B300148 and the model number is: B30CSB or 5B i
Please get in touch with rick@ricklopez.net


What do you think? Isn´t it a good start for 2007?!
If you like to get a exciting year 2007 for the lefty bassplayer scene, stay in touch and send me your informations. Let us show the righties what we are able to do! :=))
CU
Arni