Hello Arni!

First of all congratulations on keeping up that website that we all know and use around the world.

I'm writing you because my bass was stolen , and it might some day end up on leftybass?
Wanted!
It it a Musicman stingray 5 strings oiled natural finish (i removed the vernish myself) with a custon metal control plate just over the electronic.

Please let me know if you get a sale request that looks like that one?
Thanks in advance , Sébastien
For any informations: sebienbon@hotmail.com
------------------------------------------->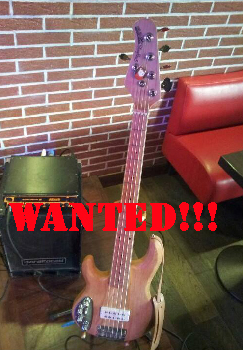 Hallo Arni,

vielen Dank für Dein Engagement! Mein Bass ist verkauft und kann so markiert werden.

Ich habe dem verstorbenen Erbauer meines Wal-Basses Pete"the fish" Stevens ein Lied gewidmet, das auf youtube steht.
Vielleicht wäre es ihm zu Ehren angemessen, es auf deiner Seite zu zeigen?
Der link ist: https://www.youtube.com/watch?v=yQMJGhabVHY

Ich wünschte, es gäbe auch für lefty-Gitarren ein so gutes Forum!
Liebe Grüße,
Manuel Garde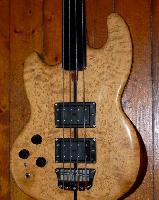 .....A tribue to WAL....................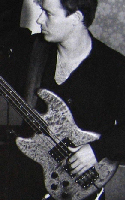 Afrikaans - Geseknde Kersfees en 'n gelukkige nuwe jaar, Bohemian - Vesele Vanoce, Brazilien - Boas Festas e Feliz Ano Novo, Bulgarien - Vesela Koleda i chestita nova godina!, Catalan - Bon Nadal i un Bon Any Nou!, Chinese - Sing Dan Fae Lok. Gung Hai Fat Choi (Cantonese), Chinese - Shen Dan Kuai Le Xin Nian Yu Kuai (Mandarin), Chinese - Shen tan jie kuai le. Hsin Nien Kuaile, Croatian - Sretan Bozic, Czech - Stastne a vesele vanoce a stastny novy rok! Dänisch - Glaedelig Jul og godt nytaar, Dutch - Vrolijk Kerstfeest en een Gelukkig Nieuw Jaar, Dutch - Prettige kerstdagen en een gelukkig nieuw jaar, English - Merry Christmas and a Happy New Year!, Eskimo - (inupik) Jutdlime, pivdluarit ukiortame pivdluaritlo!, Esperanto - Felican Kristnaskon kaj Bonan Novjaron!, Estonian - Rõõmusaid jõulupühi ja head uut aastat!, Faeroese - Gledhilig jol og eydnurikt nyggjar!, Filipinos - Maligayang Pasko, Finnish - Hyvää joulua ja onnellista uutta vuotta!, Flemish - Zalig Kerstfeest en Gelukkig nieuw jaar, French - Joyeux Noel et Bonne Année!, Scots Gaelic - Nollaig chridheil agus Bliadhna mhath yr!, Galician - Bo Nadal, German - Frohe Weihnachten und ein glückliches Neues Jahr!, Greek - Hronia polla kai eytyhismenos o kainourios hronos, Greek - Hronia polla ke eftihismenos o kenourios hronos, Hausa - Barka da Kirsimatikuma Barka da Sabuwar Shekara!, Hawaian - Mele Kalikimaka ame Hauoli Makahiki Hou!, Hungarian - Kellemes karacsonyi uennepeket es boldog ujevet!, Icelandic - Gledhileg jsl og farsflt komandi ar!, Indonesian - Selamat Hari Natal dan Selamat Tahun Baru!, Iraqi - Idah Saidan Wa Sanah Jadidah, Irish Gaelic - Nollaig Shona duit, Irish Gaelic - Nollaig Shona, Irish Gaelic - Nollaig faoi shean agus faoi shonas duit agus bliain nua faoi mhaise dhuit!, Italian - Buon Natale e Felice Anno Nuovo!, Japanese - Meri Kurisumasu soshite Akemashite Omedeto!, Latin - Natale hilare et Annum Faustum!, Latvian - Priecigus Ziemsvetkus un Laimigu Jaungadu!, Lithuanian - Linksmu Kaledu, Maltese - Nixtieklek Milied tajjeb u is-sena t-tabja!, Modern Greek - Kala Christougenna kai evtichismenos o kainourios chronos!, Norwegian - God Jul Og Godt Nytt Aar, Pennsylvania German - En frehlicher Grischtdaag un en hallich Nei Yaahr!, Polish - Vesowe Boze Narodzenie, Polish - Wesolych Swiat i Szczesliwego Nowego Roku, Portuguese - Boas Festas, Portuguese - Feliz Natal e um Prospero Ano Novo, Romanian - Craciun fericit si un an nou fericit, Russian - S nastupaiushchim Novym godom i s Rozhdestvom Khristovym!, Romanche - (sursilvan dialect): Legreivlas fiastas da Nadal e bien niev onn!, Serbian - Hristos se rodi, Slovakian - Sretan Bozic or Vesele vianoce, Slovak - Vesele Vianoce i na zdravie v novom roku!, Slovenian - Vesele bozicne praznike in srecno novo leto, Spanish - Feliz Navidad y Próspero Año Nuevo, Swedish - God Jul Och Ett Gott Nytt Ar, Thai - Suk san wan Christmas, Thai - Suk san wan pee mai - Happy New Year, Trukeese - (Micronesian) Neekiriisimas annim oo iyer seefe feyiyeech!, Turkish - Noeliniz kutlu olsun ve yeni yilinis kutlu olsun!, Turkish - Noeliniz Ve Yeni Yiliniz Kutlu Olsun, Ukrainian - Srozhdestvom Kristovym, Ukrainan - Z novym rokom i s rizdvom Hrystovym!, Ukrainan - Khrystos Rodevsia, Vietnamese - Chuc mung nam moi va Giang Sinh vui ve, Welsh - Nadolig Llawen a Blwyddyn Newydd Da!", Yoruba - E ku odun, e ku iye'dun!