Sep, 14th, 2013

Now or never!

Gibson Thunderbird IV VS lefthand

After Gibson was heavily bombarded by requests for left-handed basses, it has actually indulged the pressure!


In a 2013 edition several Gibson basses are available for a brief moment. However, you can not be safe even if an order, when and whether any such instrument will be delivered. Commitments were not made.


Therefore, I am more than happy to have gotten one of those rare birds!

.

Our community has made new friends!
Thanks for the support!

These websites got an update: Oliver Hinderle / Germany, Bob Battersby / UK and Neil Leveugle / France. Please take notice!

I like to see you 21.09.2013 for the 5th. LBD!

.

Hope to see you this day!

---

Thanks to Chris van Meer from the Netherlands for creating this Lefty Bass Forum!

I will support this forum as much as I can. We are proud to create this forum bilingual (English and German)! My English is too bad, so I´m proud to get the support from Chris.

So please help us to fill the forum with live!

Thanks a lot, Arni

.

Moin!

If you wonder what I do between the website updates, here is the result! I´m in touch with new and old friend of your community!

So please welcome

Rami Lakkis / Dubai (United Arab Emirates)

More websites got a update in the meantime:

Philipp Natterer / Deutschland

Thanks for all!

.

Three lefties and one "Diva"!

Gerald Marleaux is a lefty as well,

but a righthand bassplayer!

Thuesday, 23.05.2013

Wow, what a day!

This day was only made for lefties. Hubert Döring, a good friend from the north of Germany, got his custom made bass Diva bass, handvrafted by Gerald Marleaux.

It´s a realy beautyfull bass and it´s fantastic sounding.

Hubert got this bass direktly from Gerald Marleaux and of course, I must be a witness for such an event.

So I drove to the lovely city Clausthal-Zellerfeld / Germany.

This was the beginning of a private Lefty Bass Day!

Marleaux "Diva"

Top: Bubinga, Body: Mahagoni, fingerboard: Palisander

.

Hubert Döring is sndorser for the german brand

Here are two lightweiht cabs

BS MBRB 48 (4x8") with 19 kg weight

and a SMBRB28NHT, powert by a

BS - Amp Master 500 ! Power for the upcomming gig!

Hubert Döring and his Marleaux "Diva" fretless bass!

Another beauty belongs Hubert Döring. It´s a brand new Börjes 5string bass (on the left)!

A amazing handcrafted bass. It sounds wiry and smooth.


---

..........Back home!!!

Fame Baphomet CS 6 Lefthand

Back home!!!..........

Stolen in Germany.

Found in Dortmund / Germany!

This Fame Baphomet SC 6

Thank´s,

Arni

Thanks for all informations

from all over!!!

What a great community!

I´m proud!
---

.

23.04.2013

Sorry for my long silence at the Frankfurt Musikmesse, but what I have seen there has make me speechless. It was a disappointing to see so less lefthand basses there. But first I want to show you the models that were exhibited there for us. Thanks to these exhibitors.

Fernandes Tremor 4X with 5a Quilted Maple Top Black Cherry Burst finish, Atlas 4X with classic 3-Tone Sunburst finish, Ravelle bass Deluxe with Metal finish in black satin and a Gravity Deluxe in black version.

3 lefties from Fame on the stand of MusicStore. A Baphomet 6-string, a 4string Baphomet NTB LE with Trans Black Lackierung and another Fame 4-string. Thanks to MusicStore Köln!

Armin Alic with his "California" Mini-Bass at the Stand of U-Bass

The Fender company for the first time showed no bass left-handed! Likewise, the german company Sandberg, who have always presented basses for us left past years! Why? Warwick was not even represented at Musikmesse!
I had great expectations towards Gibson. They produce 2013 basses in lefthand version and these are certainly proud to present - I thought! But Gibson showed not even one lefty bass! What a shame!

The Frankfurt Musikmesse is a disappointment for all left-handers. I also have the impression that this year, many exhibitors at the fair stayed away. The reasons for this are not known to me.
Thanks for the few lefthand basses, but it´s a shame for all others!

.

I´m so sorry and I wish I have better news for you. But this is the realtity.

Good bye,

Arni
.
Bielefeld, 20.03.20134
Dear lefty friends,
welcome to another update. I hope you all are doing well and this year will start for our success.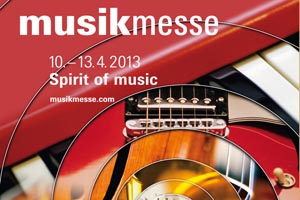 I will go to the Frankfurt Musikmesse this year and hope to post some highlights on this website. I will be there on April, 11th and hope to meet friends. Let me know if you will be there.
I´m glad to tell you that the intrest in our website seams to be unbroken. Although many websites for lefties are available on the net, but most of them are commercial website. Maybe that´s the reason.

So I´m very glad to welcome new friends and lefties from all over this world who joined The Lefthand Bassplayer Community.
Please welcome:
.
Thanks for your intrest and let me know if there is something new in the scene!
See you later,,
Arni
.

Wanted: Lefty (made in Vancouver) Odyssey Custom Series B600 bass from 1979 or 1980, similar to bass in photo, please contact Mark at markv2005@mac.com

Mark had this bass built for him as his first real lefty bass at the end of the '70's. Sunburst, could be tobacco, figured maple top, Bartolini Hi-A humbuckers, all brass hardware, 6 band graphic EQ built-in, form fit road case. He traded it in to a local Vancouver music store and has regretted it for years. He would like to track it down and see where it is. Even if it is not available to buy, pictures would be greatly appreciated as he has no photos of it. Thank you.


---

.

Hi Lefties,

before Christmas, I would like to share the latest news with you!
Those who study the music magazines, which should have been surprised as I was. Headlines for the company Stoll and the company Höfner have caused. Not only that, they have introduced new basses, it was in both cases the left-handed bass! Where there has been such a thing before? I can not remember! Perhaps a sign that we want to pay more attention.
This is also suggested that Rickenbacker has approached Prokuktion of 2012, the left-handed 4003 bass. Also, the Gibson company will produce 2013 left handed basses as well! Hope to get further informations soon! I think they will start with the Gibson Midtown bass. We will see.

Rare lefty basss for sale on the internet right now! A 1959/1960 Gibsin EB-2, owner Wayne Hutsell!

And a Guild Starfire II Bass on gbase.com! Thanks Colin !

1959 / 1960 Gibson EB-2

.

Guild Starfire II Bass
---
I´m glad to met new friends of our community. So please welcome:

.
.

And thank you very much to Christian Moser for an update of his website.

.

---
The series starts with a lefty!

Okay, luthier Christian Stoll only build handmade guitars and basses.

His new creation is the Stoll IQ-bass. This wonderful sounding bass is made for Dr. Gert Evers.

A impressive acoustic 5string bass!

Maybe you noticed this mission!

If you have a own bass solo, please send it in a60 second mp3 file.

I will post it on our website for a week.
---
.
Höfner Limited Edition Black Violin Bass
Only three...

...copies worldwide!!!

On behalf of the german bass magazine BassQuaterly I could test one of three Hofner violin basses worldwide
A gorgeous bass, the sound characteristics of the Beatle Cavern bass. It is my report in the upcoming issue of BassQuarterly.

---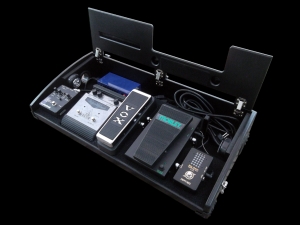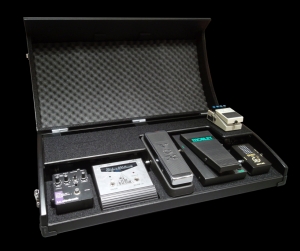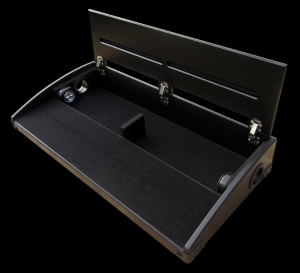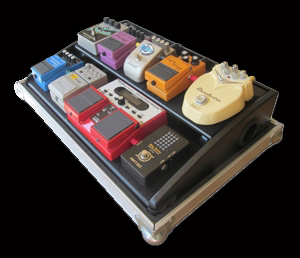 What a luck!
Right next to our practice room is the Smith & Stange company. Martyn Smith is an English-born musician, made from a virtue of necessity and developed pedalboards. This Pedalboards be fabricated by hand and could customized request individually, to meet every requirement to be.
Please check out the website to get a great overview of the wealth of ideas.
.
What a friendly neighborhood!!!
The company "Smith & Stange" grants every registered member of leftybass.com a discount of
10%
on custom and standart pedalboards!
Rock on!
---
.
4. Lefty Bass Day music magazines article:

.

Who is this Lefty?

Grace Jones - Slave To The Rhythm (Jubilee Concert, 4.6.12)

(Thank´s to Frits Jochems for this question)

Hi Arni, and a Happy New Year. The bass player with Grace Jones is session man Lee Pomeroy, from London, he like us is left handed + he play's it up side down like me !!!!!! he's an amazing bass player and has toured the world with Take That and is a busy guy to get hold of, because of his distinctive chop's.- and what a (SLAPPER AS WELL !!!!!!!).

Thanks Colin
---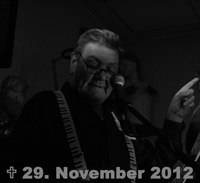 With the age of 58 years our friend Herbert "Baff" Nickisch passed away. "Baff" was singer and keyboard player in our band Mixed Society.
We will miss you!
---