Here is a metal bass for the metal bassplayers:
Jari Pasuri, lefty bassplayer from Finland, pointed me to Kiiras Instruments. Kiiras is located in Finland as well and builds instruments with all features you like. Custom order for a good price.
Here is Jaris bass from the Katras series: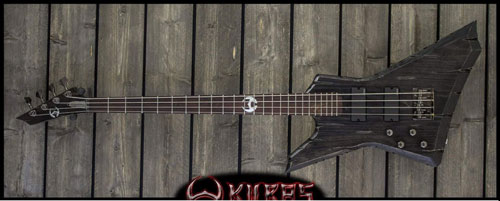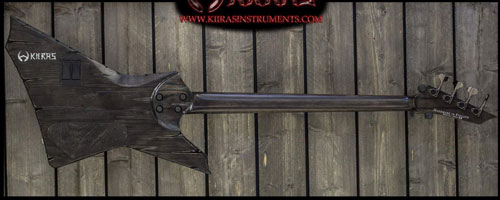 Neck

5-piece maple-wenge laminate neck
24 jumbo STAINLESS STEEL frets
Fretboard radius: 12?-16? compound radius on fixed bridges
16? on Floyd Roses
Nut: Bone / buffalo horn for fixed bridges
Locking nut on Floyd Roses
Tuners: Gotoh SG381 MG – locking tuners with fixed bridges
SG381 regular tuners with Floyd Rose
Headstock veneer matches body wood & finish

Body & hardware
1+ body construction (ie. one board on the middle with two pieces glued to each side) with bolt-on guitars
No bindings
Stained to desired colour, wood grain is left visible
Satine laquer
Gotoh BB-04W 18V (2x9V) battery case with active electronics
Humbucker rings, jack plate and truss rod cover made of stainless steel

.New friends and lefthanded bassplayers on leftybass.com! Thanks!